No Fly Zone
2D arcade style top down shoot-em-up. It's 1914, you play as a pilot in the first world war. The fate of civilization rests in your hands.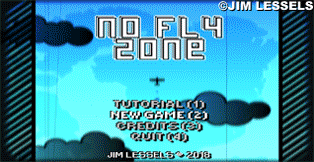 FEATURES:
- 8 levels of progressive difficulty.
- 10 upgrades to unlock.
- Auto-save system records your progress.
- A soundtrack with a variety of period music from Edison phonographs.
- Xbox 360 controller compatibility.
NOTE:
Thanks for taking the time to look at this project. xoxo - Jim
CREDITS:
CODE, ART & DESIGN -
Jim Lessels
BETA TESTING -
Ben Van Eijk
MUSIC -
United States Marine Band - "The Bachelors", "Brooke's Triumphal March", "Thomas Jefferson March", The Thunderer"
United States Marine Band & Arthur S. Witcomb - "The Premier"
Ludwig Von Beethoven & Bellini Ensemble Unique - "Moonlight Sonata"
United States Marine Band & John Philip Sousa - "Semper Fidelis March"

SOUND EFFECTS -
Mark DiAngelo
Ertfelda
freesfx.uk.co
Download
Click download now to get access to the following files: